Scott was contacted by the Raleigh Hotel in July 2000 and asked to run the lights and sound in the Night Club, a job which he accepted even though he was working at Winston Day Camp during the day and at the Paramount Hotel on weekends and certain nights! In the short time Scott was working at the Raleigh, he enjoyed working in the Night Club and singing with Chuck James and Carl Deitz' High Society Orchestra in the Swizzlestick Lounge. Scott returned for the spring-summer season of 2001 as a Stage Manager, along with Mike.
In January 2001, the Binghamton Crosbys sang at the Raleigh Hotel during their Winter Tour and finished with a standing ovation.
[Raleigh Hotel's Website]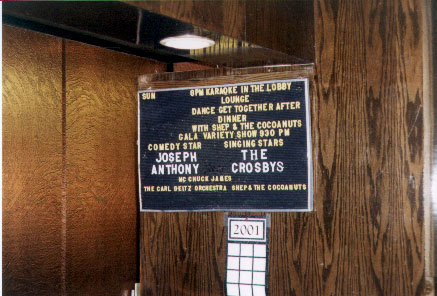 The Crosbys appear at the Raleigh Hotel!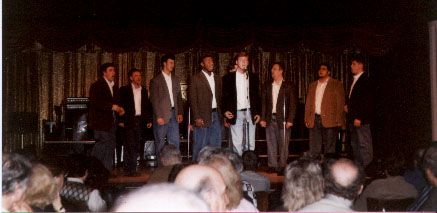 Scott sings Against All Odds on the Raleigh stage with the Crosbys.