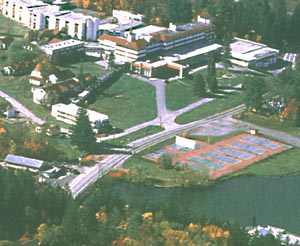 Scott started to work at the Swan Lake Resort before it officially opened its doors for business. After watching the Stevensville Hotel undergo major renovations for two years, Scott decided to apply for a position on the activities staff. Lucky for him, Scott met Steve Weiss, who he had known from the Pines Hotel years before. Scott started in May and worked until he had to return to college in September.
To make a long story short, Scott ended up becoming Director of Activities that July. Aside from some minor problems with the higher management, Scott had a great time that summer and learned a great deal about how to - but especially how not to - run a hotel!
Scott didn't just work with people on activities at the hotel: he gave tours of the place, brought people up to their rooms, made up stories about when things would be fixed, helped with the computers, displays and the front desk, set up and ran the lights and sound in the night club, and sang every Monday night in the "Shangri-La." That summer, Scott worked on activities and entertainment with Steve Weiss, Paul and Sheila Golden, Mindy McGee, Zeke Better, Murray and Ruby Waxman, and Sam and Irene Unterman. Click on thier pictures below to enlarge them.



Photos
of
Scott's
Nineteenth
Birthday
Party

August 1999

Swan Lake
Resort



Formal Dining Room
Entertainment
Joy Len Cottages
Monticello
8/14/99